About Us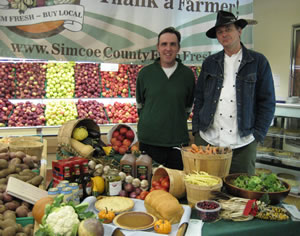 Simcoe County Farm Fresh Marketing Association was formed as a grass-roots organization in 2005 and incorporated as a non-profit corporation in 2007.
The association is made up of area farmers, farmers' markets, local food retailers, restaurants/caterers, accommodators, microprocessors, educators and includes other community partners in the health field, food security, government, tourism and economic development. All have an interest in raising the awareness of the availability of locally grown and produced food and drink.
Our Mission Statement:
"To promote and advocate local food production, processing, distribution and consumption for the purpose of sustaining the local food system in Simcoe County"
Our strategic priorities include:
Engage and educate the community (members and public) to support our mission.
Develop and implement a marketing strategy to target groups to support our members and promote the mission.
Be a voice for members on issues and initiatives that impact our local food system.
Develop long term sustainability of the association in support of the mission.
There are many small and mid-size farms in Simcoe County working to meet the growing demand for local food and drink. This web site is one of the ways we are creating awareness of the availability of local food and to connect consumers directly to farmers and businesses who are selling wholesome, nutritious, food close to our own backyards!
Did you eat today? Thank a farmer!
Individual producers and food services are responsible for their products and growing/preparation methods.
Simcoe County Farm Fresh is not responsible for the quality of products sold, nor do we guarantee hours of operation listed.
Members of the Board of Directors
Board of Directors meetings are open and welcome to any member of Simcoe County Farm Fresh, as well as representatives of our community partners/supporters. If you would like to attend a meeting, please contact us at info@simcoecountyfarmfresh.ca for the date, time and location.
Simcoe County Farm Fresh Marketing Association is currently under the direction of a volunteer steering committee of dedicated members of the association.