Wye View Farms
David Graham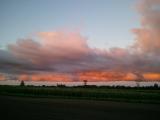 1337 South Orr Lake Road
Elmvale, ON
705 427-3450
wye.view.farms@gmail.com
http://www.wyeviewfarms.ca

Directions:
One mile east of Elmvale, on South Orr Lake Road.
Hours:
May to October, 8 AM - 8 PM
Find us at the Victoria Harbour and Penetanguishene Farmers' Market
Notes:
We grow Arugula
Beans
Beets
Kohlrabi
Carrots
Celeriac
Celery
Bi-colour Sweet Corn
Cucumbers
Bee Balm
Mild Mesclun Leaf Lettuce
Kale
Romaine
Red Romaine
Green Onions
Ruby Ring Onions
Scallions
Parsnips
Peas
Jack o Lanterns
Pie Pumpkins
Spinach
Squash
Zucchini
Swiss Chard
Turnip
Rutabaga
Radishes
Chives
Anise
Sweet Basil
Borage
Bouquet Dill
Fennel
Spearmint
Stevia
Oregano
Thyme
Muskmelon
Watermelon
Cabbage
Red Cabbage
Eggplant
Bell Peppers
Jalapeno Peppers
Habenaro Peppers
Ghost Peppers
Tomatoes
Strawberries
Check for current availability on our web site.
"FRESH...just for you!"