Harris Farms
Charles & Teresa Harris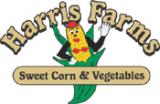 RR # 2, 3216 George Johnston Rd
Barrie, ON
705-734-9448
c-harris@csolve.net
http://www.corn-barrie.ca

Directions:
3 km north of Hwy 90 on George Johnston Rd.
Hours:
Daily during season, 10 am - till dusk
Notes:
"Sweet Corn is our Specialty!"
Sweet corn (Peaches & Cream, Yellow and White Varieties), potatoes, tomatoes, cucumbers, peppers, beets, green and yellow beans, onions, strawberries, squash, zucchini and pumpkins and much more!
Find us on FB:
https://www.facebook.com/harrisfarmssweetcorn