Northwinds Farm
Douglas & Betty Gullett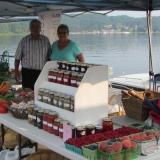 1742 Penetanguishene Rd.
Barrie, ON
705 727-0461
doug.gullett@gmail.com

Directions:
We are 6 buildings north of Old Barrie Rd. at the 4 way stop in Dalston on Penetanguishene Rd. Beside United Church.
Hours:
Open year-round. Saturday & Sunday 9 AM - 6 PM
Mon, Wed, Thurs, Fri 9 AM - & PM
Tuesdays call first or by chance.
Find us at the Midland, Penetanguishene & Victoria Harbour Farmers' Markets
Notes:
Farm fresh chickens, ducks & local meats, eggs, cheese, honey, maple syrup, rhubarb, asparagus, strawberries, raspberries, onions, lettuce, beets,carrots, kale, peas, beans, tomatoes, potatoes, sweet corn, squash, celery, cabbage, cauliflower, turnip, blueberries and pumpkins.
"The home of farm fresh eggs, chickens, fruits and vegetables and Percy, our beautiful peacock!"