R & P Farm Deli & Cafe
Roham Davoodian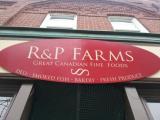 29 Victoria St. West
Aliston, ON
705 434-9900
deli@rpfarms.ca
http://www.rpfarms.ca

Directions:
We are located right downtown Alliston.
Hours:
Open Daily, Closed Sundays (see our web site for our hours)
Notes:
We source our fruits and vegetables from R & P Farms and butter from Alliston creamery, Local Honey and Maple Syrup.
"Cozy Café in the Heart of Alliston Downtown! Best Homemade Soups, Gourmet Sandwiches, Daily Specials made with local ingredients and much more!!"
Follow us on Twitter @rpfarmsdeli