Lakeview Gardens
Rob Radcliffe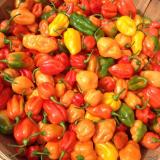 1712 Killarney Beach Rd, RR 1
Lefroy, ON
705 456-5822
lakeviewgardencentre@gmail.com
http://www.lakeviewgardencentre.com

Directions:
2 km East of County Rd 4 (formally Hwy 11) on Killarney Beach Rd.
Hours:
End of April - End October. Monday to Saturday 9 AM - 5 PM - extended hours in the May.
No SUNDAY sales
Find us at the Sandy Cove Farmers' Market (Tuesday's) 10am - 2pm; Innisfil (Thursday's) Farmers' Market. 2PM - 7 PM
Bradford (Saturday's) Farmers'
Notes:
Greenhouse grown: English cucumbers, Mini Gourmet cucumbers, pickling cucumbers, sweet bell peppers, Hot Peppers, Cluster Tomatoes, Cherry Tomatoes.
Field grown: Beets, Beans, Broccoli, Cabbage, Carrots, Collard & Kale, Chard, Garlic, Kohlrabi, Leeks, Lettuce, Onions, Radishes, Shallots, Spinach, Summer and Winter Squash, Tomatoes.
Honey, Herbs and Vegetable Plants, Jams & Preserves.
"3 generations Farm owned & operated since 1979. All products are grown using biological controls"