McBrides Organic Farm
Doug and Sharon McBride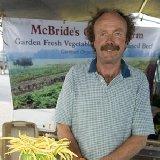 1432 Line 8 north, RR # 2
Oro Station, ON
705 487-2335
mcbrides@ultrafastwireless.com
http://www.mcbridesorganicfarm.ca

Directions:
5 minutes north of Hwy 11, on the 8th line of Oro-Medonte.
Hours:
Find us on the farm Friday's 2 - 5 PM (Other times, please call ahead)
Look for us at the Barrie, Orillia and Gravenhurst Farmers' Markets.
Notes:
Certified Organic Vegetables and pasture raised beef.

"Our goal is to provide our customers with fresh, locally grown, certified organic vegetables and pasture raised beef with the smallest ecological footprint possible."