Collingwood Downtown Farmers' Market
Susan Nicholson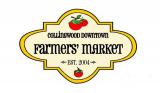 Corner of Second & Pine Streets
Collingwood, ON
705 445-5595
admin@collingwooddowntown.com
http://www.collingwooddowntown.com

Directions:
One block west of County Road 124 (Hurontario Street)
Hours:
Saturday mornings, 8:30 am to 1:00 pm., May Long Weekend to Thanksgiving Weekend
Notes:
The market operates each Saturday morning in the heart of downtown Collingwood's historic downtown from the holiday weekend in May until Thanksgiving Weekend. It is located in the municipal parking lot at the corner of Second and Pine Streets and is open from 8:30 AM to 1 PM.
Local vendors feature a wide range of organic vegetables and fruit, baking, meats and cheeses, flowers and trees, jams, preserves, handcrafted items and more.
Special activities for the family, entertainment and artists are featured each week.
"We're Naturally Appealing"
https://www.facebook.com/pages/Collingwood-Downtown-Farmers-Market/122475704505109?fref=ts