Please Note: Savour Simcoe has been cancelled for 2016. Not to worry, we are we working on an epic event for 2017. Stay tuned for info!
Savour Simcoe has been a well-recognized and successful event and we hope to continue this established tradition.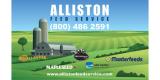 Alliston Feed Service Ltd.

Peter Dockerty
180 Albert St. W.
Alliston, ON

View Full Profile






Local Food Maps are now available all over county!