Wing and a Prayer Farm
Shelly & Anthony van Heyningen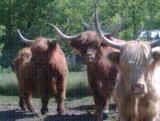 1374 Wood Road (Tay Twp) RR # 1
Wyebridge, ON, ON
705 322-5356
info@wingandaprayerfarm.ca
http://www.wingandaprayerfarm.ca

Directions:
Turn east off Hwy 93 on to Vasey Rd (County Rd 23); go 1.9 km east to Wood Rd/Scarlett Line. Turn left (north) on to Wood Rd, go 1.8 km north to the farm #1374 (left-hand side)
Hours:
We are open year-round, Monday to Saturday - Please call ahead. NO Sunday Sales
Notes:
Organic free-range eggs, naturally-raised meats, grass-fed beef, free-range chicken.
"The Natural Difference You Can Taste"