Fernwood Farms & Market
Kevin & Krista Ward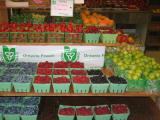 7865 Hwy 26
Stayner, ON
705 428-3171
fernwoodfarms@rogers.com
http://ruralroutes.com/fernwoodfarms

Directions:
Our farm & market is located on Hwy 26, 2 km. north of Stayner. Between Wasaga Beach and Stayner. We are approximately a half hour from Barrie and just over an hour from Toronto. Look for the market with the big red roof. See you there!
Hours:
We are open daily 9 AM - 6 PM. Check our web site for Seasonal Days!
Notes:
Fernwood Farms proudly carries 90% local, Ontario & Canadian products.
FRESH FRUITS & VEGETABLES - Our own, local and Ontario!! (strawberries, raspberries, blueberries, blackberries, currents, sweet corn, squash, gourds and pumpkins)
BAKERY - Fernwood Farms Famous PIE BAKED IN A BAG! Also an assortment of treats baked daily. OLD STYLE DONUTS. Made Fresh in the store. Weekends only.

OLDSTYLE DONUTS. Made Fresh in the store. Weekends only.
Fernwoods Famous PIE IN A BAG!! A must have !
HONEY from our own hives. KAWARTHA DAIRY Ice Cream.
PERSERVES & PICKLES: Fernwoods own Jams. Roothams, Wildly Delicious, Ontario Garlic Company Products. Natural Peanut Butter, Apple Butter, No Sugar Added Jams.
SWEETS & TREATS - Ontario Fresh Popping Corn & seasonings, Fudge, chocolate covered sponge toffee, Ontario redskin peanuts, fudge, brittles, maple sugar leaves and more.
ENTREES & MEAT
GIFTWARE - Seasonal décor, purses, scarves, Rocky Mountain Body Products, candles, kitchen linens & wearables and more.
PICK YOUR OWN CROPS: strawberries, raspberries, blueberries and pumpkins. (call ahead for picking times and dates)
FROM OUR FIELDS (Picked fresh daily) - Rhubarb(May), strawberries(mid June), blueberries(July/Aug/Sept), raspberries(July/Aug), tomatoes(Aug/Sept), Kev's famous sweet corn; yellow/peaches&cream/white(July/Aug/Sept), squash/pumpkins(Sept/Oct).
STRAWBERRY PANCAKE BREAKFAST - Third week in June - call for exact date 7:30 am - 10:30 am
PUMPKIN PYRAMID LIGHTING- The last Saturday in October. Come on out and see over 600 pumpkins light up the night sky! Night wagonrides to the corn maze and pumpkinland to follow the pyramid lighting, from 7-8:30pm. Don't forget to bring your flashlight.

PUMPKINLAND - open October weekends (Sat & Sun) 10-5. Wagon rides, Corn Maze, Games, Mini Putt, Pumpkin Hunt, Pick your own pumpkin, play areas and animals.
NOVEMBER & DECEMBER - Gift baskets, gifts, wreaths, baking, gourmet foods and more.
PARTIES - Planning a party or group outing? Make it a hit and have it on the farm. Call the market for more details.
ANIMALS - Don't forget to stop and see our animals...they love visitors!
Fernwood Farms & Market - 'Where good things grow!'
https://www.facebook.com/pages/Fernwood-Farms-Market/214235728599256?fref=ts