Alliston Feed Service Ltd.
Peter Dockerty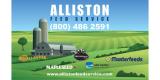 29 Young St.
Alliston, ON
705 435-6438
info@allistonfeedservice.com
http://www.allistonfeedservice.com

Directions:
Hours:
We are open year-round: Monday to Friday - 7 AM - 6 PM, Saturdays 8 AM - 3PM
Sundays closed.
Notes:
"Alliston Feed Service is a family owned feed manufacturing business that has been serving it's customer base for almost 60 years."
Alliston Feed Service manufactures a complete line of bulk and bagged feeds and provides nutritional advice and feeding programs for all species including dairy, beef, swine, equine, poultry and sheep and goats. In addition, Alliston Feed Service stocks and sells a wide range of related animal health products, pet food, and bird seed, salt, forage and grass seed, hay preservatives and innoculants, and other farm related products.
We use locally grown NON GMO Corn in all our Poultry and Swine feeds. If you have any questions, call us at any time.
We WELCOME the public to our store, which includes a variety of local food products:
Sheldon Creek Dairy products, Prime Ridge Cream Cheese, Empire Cheese, Wellesley Apple Products, Creekside Honey, Alliston Creamery Butter, Homestead Farm Eggs, Breedon Maple Syrup.
100% Canadian with grains from local farmers
"Follow" us on Twitter @AllistonFeed