Marric Gardens
Eric or Margret Jelinski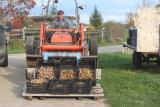 11450 County Road 10
Stayner, ON
705 351-0295
marric.acres@sympatico.ca

Directions:
On Simcoe County Road 10. From Angus, north 13 km, or Hwy 26 at Sunnidale Corners south 5 km. Big white and green MARRIC GARDENS sign on the west side of the highway.
Hours:
We are open:
Wednesdays and Fridays - 2 PM - 8 PM
Saturdays - 8 AM - 8 PM
CLOSED: Sundays, Mondays, Tuesdays and Thursdays
Email and phone orders may be requested anytime and pickup specifically arranged for alternate days. i.e. for bushel size orders f
Notes:
We grow fingerling potatoes, carrots, beets, corn, kale, swiss chard, beans, cukes, leeks, shallots, onions, garlic.
Our fingerling potatoes, beets and carrots are sold by the bushel. Please email or call ahead for large orders.
In our garden, we grow and sell a variety of flowers and nursery stock plants.